Information
FUN R1 is a form of interactive multimedia used for entertainment. You can play Retro Arcade FUN R1 at home or anywhere with your friend. Including 40+ masterpieces from NEOGEO Classic games, including The King of Fighters, Fatal Fury, Samurai Shodown, and Metal Slug.

Retro FUN R1 Using high-quality motherboard, CPU of AMLOGIC 905X 4 Quad-Core 64bit ARM Cortex - A53, GPU of 5 Quad-CoreARM Mali -450, Card Slot support micro SDH up to 32GB or Micro SDXC of 65GB.

UNICO Double Stick Arcade Game Console preloaded 44 Genuine SNK Classic Games, 2 Joysticks for 2 players face to face gaming, Support Extension VA & HDMI Output, you can connect it to the screen or TV via the VA cable or HDMI cable, Just plug in and play! Our FUN R1 Arcade Game Console offers Top ranking game control experience as well as stable performance.

Last but not least, Compatible with LCD TV / Desktop Computer / Projector/TF Card to Add More Games. The game itself is usually controlled and manipulated using a handheld device connected to the controller. The controller generally contains a number of buttons and directional controls, ( such as analog joysticks), each of which has been assigned a purpose for interacting with and controlling the images on the screen.

Structure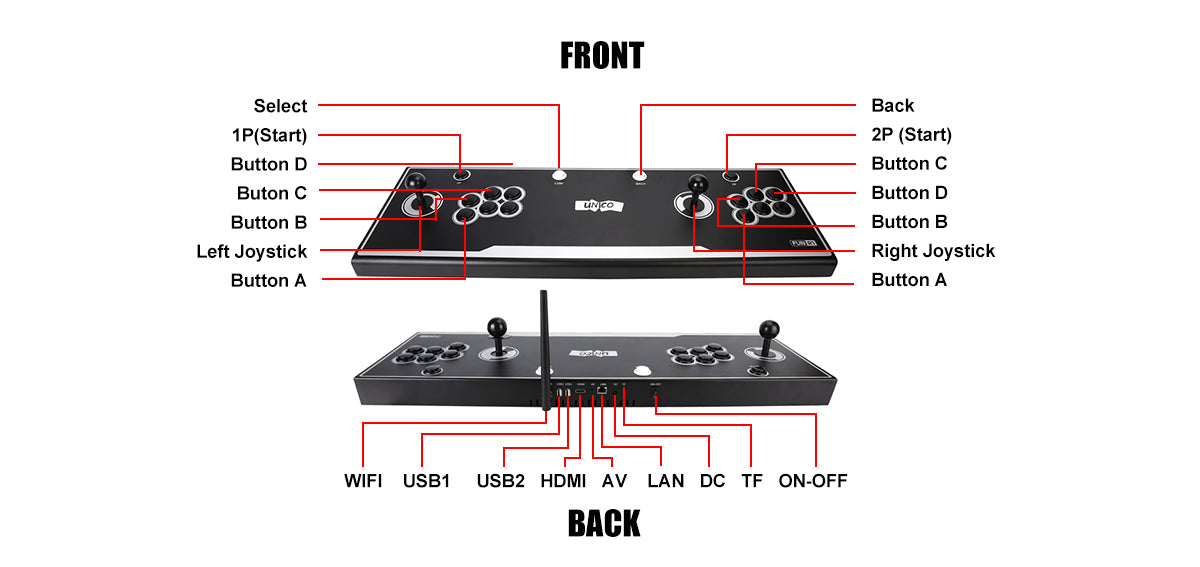 Game Title
| | | | |
| --- | --- | --- | --- |
| 1 | The King Of Fighters '94 | 2 | The King Of Fighters '95 |
| 3 | The King Of Fighters '96 | 4 | The King Of Fighters '97 |
| 5 | The King Of Fighters '98 | 6 | The King Of Fighters '99 |
| 7 | The King Of Fighters 2000 | 8 | The King Of Fighters 2001 |
| 9 | The King Of Fighters 2002 | 10 | The King Of Fighters 2003 |
| 11 | Metal Slug | 12 | Metal Slug 2 |
| 13 | Metal Slug x | 14 | Metal Slug 3 |
| 15 | Metal Slug 4 | 16 | Metal Slug 5 |
| 17 | Art of Fighting | 18 | The Path of the Warrior Art of Fighting 3 |
| 19 | Fatal Fury | 20 | Fatal Fury 2 |
| 21 | Fatal Fury 3 Road To The Final Victory | 22 | Fatal Fury Special |
| 23 | Garou: Mark of the Wolves | 24 | Samurai Shodown |
| 25 | Samurai Shodown II | 26 | Samurai Shodown III |
| 27 | Samurai Shodown IV: Amakusa's Revenge | 28 | Samurai Shodown V |
| 29 | Samurai Shodown V SPECIAL | 30 | The Last Blade |
| 31 | The Last Blade 2 | 32 | Super SideKicks |
| 33 | Sengoku | 34 | Sengoku 2 |
| 35 | Sengoku 2001 | 36 | World Heroes |
| 37 | World Heroes 2 | 38 | World Heroes 2 JET |
| 39 | World Heroes Perfect | 40 | Savage Reign |
| 41 | Kizuna Encounter - Super Tag Battle | 42 | Real Bout Fatal Fury |
| 43 | Real Bout Fatal Fury Special | 44 | Real Bout Fatal Fury 2: The Newcomers |
Package Content
1 x Retro Arcade Console FUN R1
1 X HDMI Cable
1 X Wifi
1 X Power Adapter
1 X User Manual