Information
SNK NEOGEO Mini includes 40 NEOGEO Classic Games! Original Arcade Console Design with LCD Screen! Portable Size to Play Anywhere! Save and Load Function at Anytime! Different input and output ports for different ways of playing! Unforgettable game memories come back to life on a hand-size arcade!
Features
1. 40 masterpieces from all the wonderful games on NEOGEO platform, including The King of Fighters, Fatal Fury and Metal Slug.
2. Equipped with a 3.5 inch LCD screen. Its arcade machine body also includes a joystick controller and stereo speakers. You can enjoy the games without a separate TV
3. Small enough to fit on your palm (dimension: W135mmxD108mmxH162mm). With 390g overall weight and USB power supply, you can have fun anywhere with a portable power source.
4. Built-in instant save/load function. When pressing START and SELECT together, you can save the current game progress or load a previous profile in the menu.
5. HDMI port, external controller connections (2 in total) and earphone jack. Players can partner or challenge their friends together in the games and have more fun.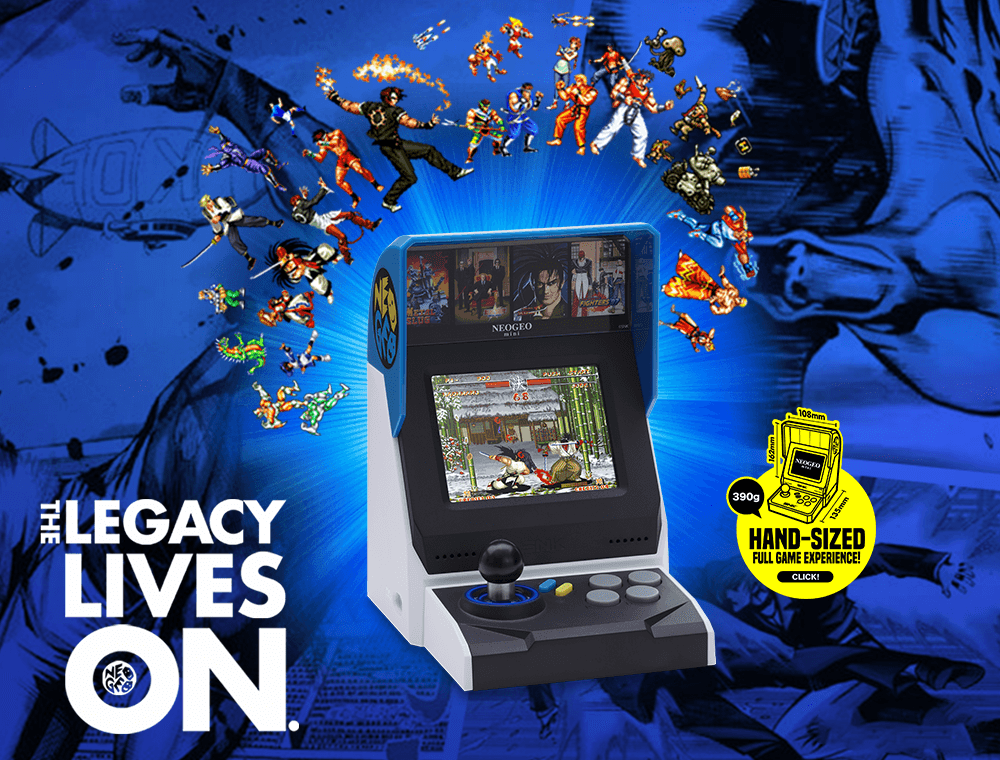 Structure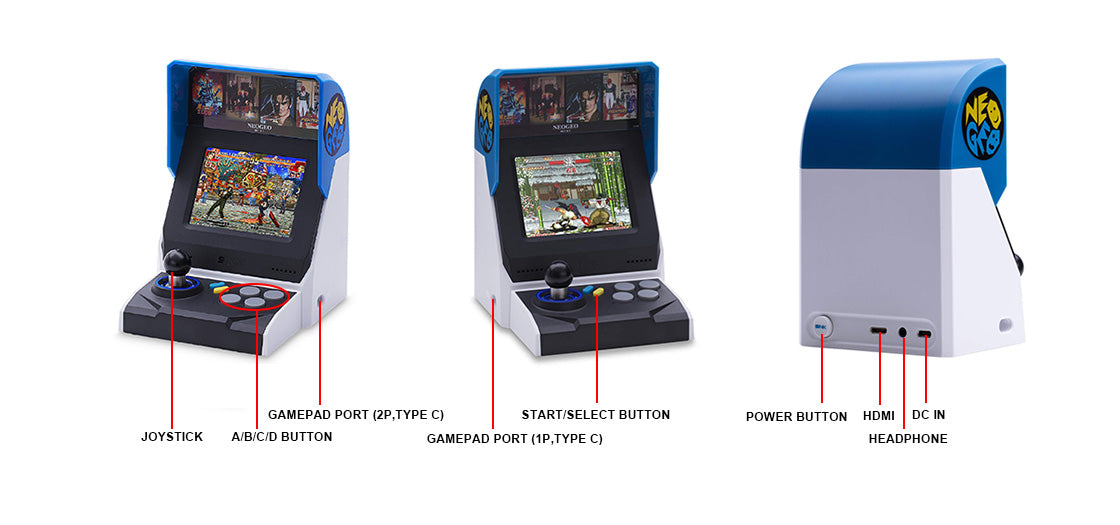 Game Title
| | | | |
| --- | --- | --- | --- |
| 1 | THE KING OF FIGHTERS '95 | 2 | THE KING OF FIGHTERS '97 |
| 3 | THE KING OF FIGHTERS '98 | 4 | THE KING OF FIGHTERS 2000 |
| 5 | THE KING OF FIGHTERS 2002 | 6 | SAMURAI SHODOWN II |
| 7 | SAMURAI SHODOWN IV | 8 | SAMURAI SHODOWN V SPECIAL |
| 9 | REAL BOUT FATAL FURY | 10 | GAROU: MARK OF THE WOLVES |
| 11 | FATAL FURY SPECIAL | 12 | WORLD HEROES PERFECT |
| 13 | KIZUNA ENCOUNTER | 14 | ART OF FIGHTING |
| 15 | THE LAST BLADE 2 | 16 | NINJA MASTER'S |
| 17 | KING OF THE MONSTERS 2 | 18 | SHOCK TROOPERS 2ND SQUAD |
| 19 | METAL SLUG | 20 | METAL SLUG2 |
| 21 | METAL SLUG3 | 22 | SENGOKU3 |
| 23 | BLAZING STRA | 24 | TOP PLAYER'S GOLF |
| 25 | SUPER SIDEKICKS | 26 | PUZZLED |
| 27 | FOOTBALL FRENZY | 28 | METAL SLUG X |
| 29 | METAL SLUG 4 | 30 | METAL SLUG 5 |
| 31 | MAGICIAN LORD | 32 | KING OF THE MONSTERS |
| 33 | BLUE'S JOURNEY | 34 | SHOCK TROOPERS |
| 35 | ROBO ARMY | 36 | CROSSED SWORDS |
| 37 | MUTATION NATION | 38 | 3 COUNT BOUT |
| 39 | LAST RESORT | 40 | GHOST PILOTS |
Package Content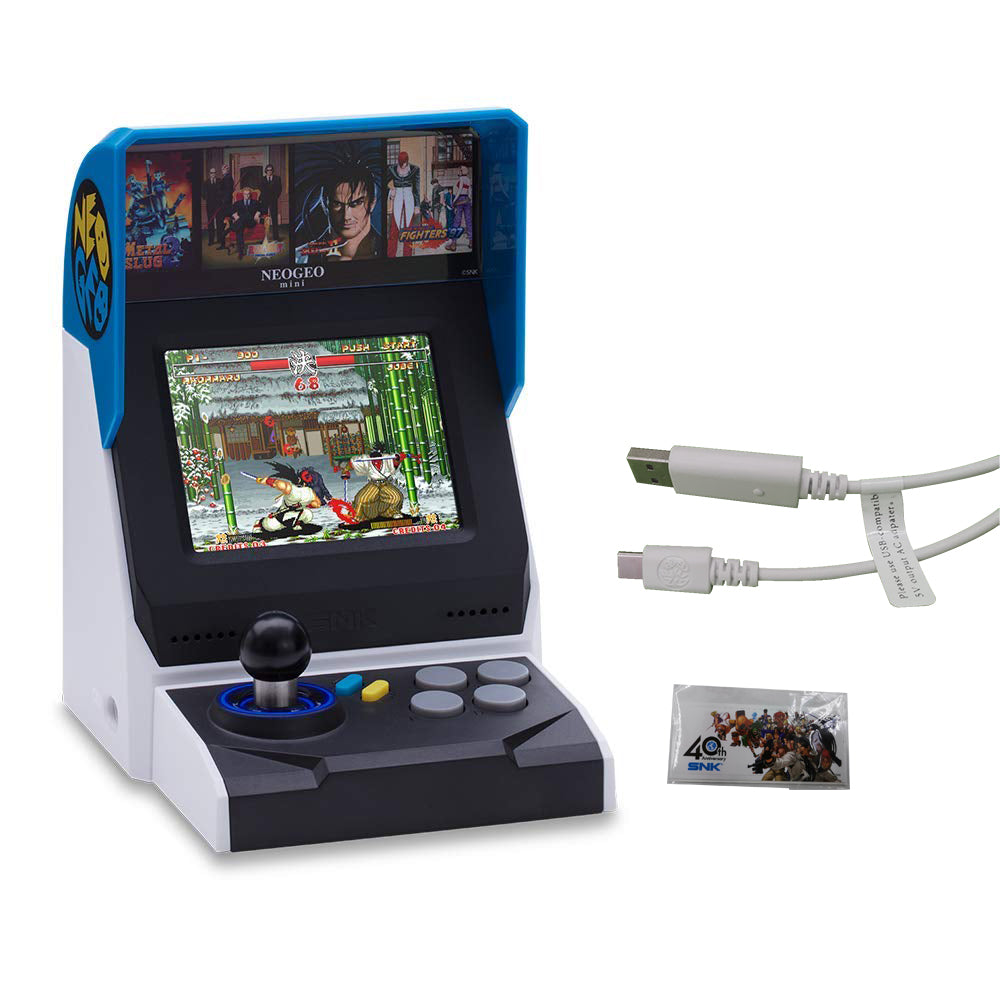 1 x SNK NEOGEO mini international version
1 x Type-C cable
1 x Sticker
1 x instructions